Imagine an AI-powered customer contact center software with an omnichannel and customer-centric design that empowers agents to effectively resolve customer inquiries. 
This system not only overcomes language barriers with conversational AI capabilities but also offers agent-assisted AI responses, optimizing agent productivity with regular check-up cycles. This dream has become a reality in the BPO industry, thanks to Buzzeasy.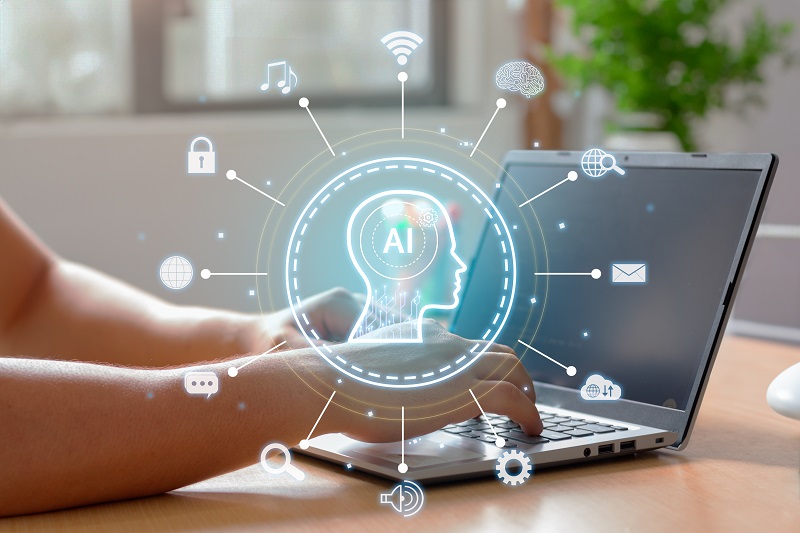 To help you craft future-proof omnichannel strategies, this blog post will delve into the key factors that transform interactions into the ultimate customer experience. We'll also explore the cutting-edge features of Buzzeasy.
Driving the Ultimate Customer Experience in Today's Industry Landscape
Today, 80% of customers regard the experience a company provides as equally significant to its products and services. This highlights the vital importance of understanding customer expectations, aligning them seamlessly, and developing long-term strategies.
To thrive in this environment, foster customer engagement, and promote growth, businesses must recognize that modern customers expect more than just basic transactions.
They seek an experience that's tailored, engaging, and effortlessly convenient - a personalized encounter that resonates with their desires and choices.
This is why businesses must understand that customer experience encompasses every interaction with a company, from the first touchpoint to the final interaction.
It's about more than just fixing problems or providing answers; it's about generating positive feelings and building lasting connections through interconnected customer journeys.
Achieving this elevated level of customer experience presents many challenges and requires a holistic approach to customer experience management.
Customers now interact with businesses through various channels and devices, expecting quality and speed like never before. In fact, 72% consider expressing concerns across multiple channels a significant indicator of poor customer support.
The real challenge for businesses lies in finding intelligent solutions that integrate these diverse channels, providing unified, uninterrupted customer service experiences that ensure quick, accurate, and consistent responses across all platforms.
Enter Artificial Intelligence (AI), a key tool for optimizing CX operations, offering personalized and proactive assistance that anticipates individual needs and preferences, thereby revolutionizing the entire client experience.
AI-contact center solutions help businesses improve their CX performance by:
Automating repetitive tasks like data entry, verification, scheduling, and routing
Providing virtual agents that handle common customer queries using natural language processing (NLP) and machine learning (ML)
Analyzing customer data for insights and recommendations
Enhancing agent productivity by offering real-time support during or after calls
Monitoring contact center performance with real-time dashboards and reports
Embrace the New Era of AI-Based Call Centers with Buzzeasy
Buzzeasy is a prime example of an AI-driven contact center solution that uses AI to automate and enhance various functions within CX operations. It functions as a Cloud Contact Center as a Service (CCaaS), going beyond the scope of traditional call center software and serving as an exceptional AI-powered call center suite.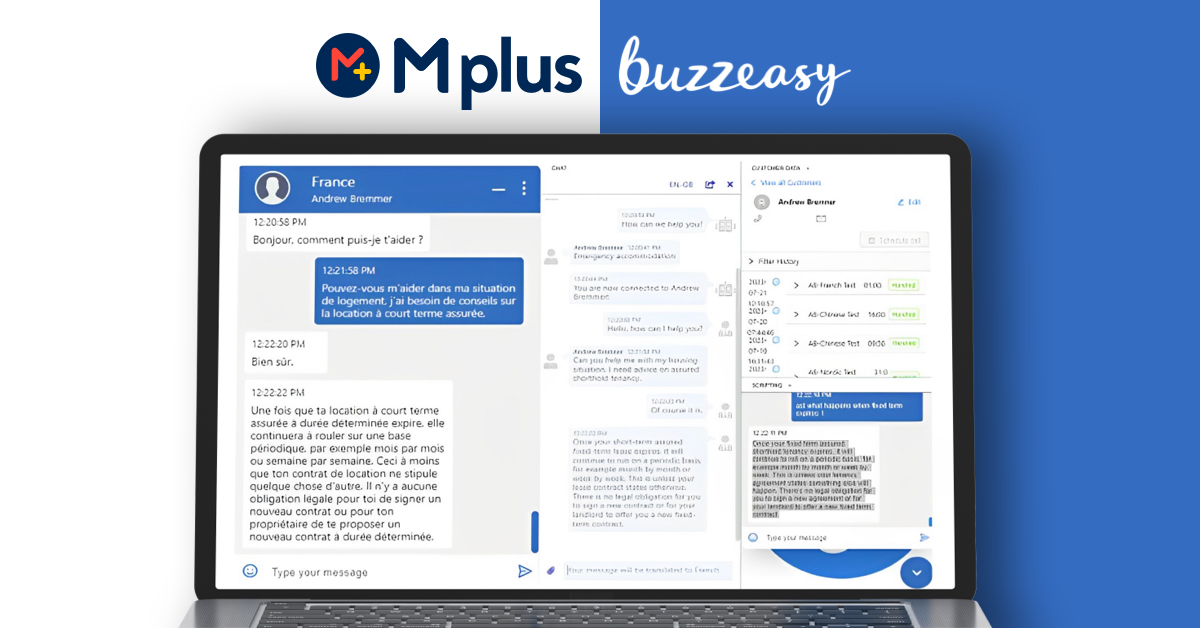 This Microsoft-certified solution integrates seamlessly with Allspace and major CRM vendors like Salesforce, Dynamics, and ServiceNow. It transforms Microsoft Teams into omnichannel cloud contact centers, facilitating both voice and digital customer interactions.
An integral part of Mplus's BPO services, Buzzeasy is designed for exceptional customization, rapid implementation, and a distinct competitive edge, making it one of the top customer experience management software available.
An integral part of Mplus's BPO services, Buzzeasy is designed for exceptional customization, rapid implementation, and a distinct competitive edge, making it one of the top customer experience management software available.
Join us as we delve into the features of Buzzeasy to understand why it is the key solution for staying aligned with evolving customer expectations in the AI transformation of the BPO industry.
AI-powered Asistance for Effective Customer Service
Intelligent Chatbot Solution for Efficient Problem-Solving
Streamlined Communication with Al-Based Translation
Al-Driven Training & Onboarding for Optimal Performance
Smart Voice & Digital Call Routing 
Buzzeasy introduces intelligent customer segmentation, prioritization, and routing by leveraging AI for streamlined first-contact resolutions.
By collecting customer journey attributes, agents are assigned to specific groups based on skills, languages, and availability. AI-driven analysis of customer intent, sentiment, and urgency further refines routing, reducing wait times, enhancing satisfaction, and optimizing agent utilization.
Intelligent Performance Monitoring
Monitor operational performance with real-time analytics and Power BI reporting through Buzzeasy. Dynamic wallboards provide oversight, displaying metrics and KPIs such as service level, average handling time, first call resolution, and customer satisfaction.
Real-time agent monitoring and coaching, enabled by whisper, barge-in, and take-over features, ensure consistent service quality and pinpoint areas for enhancement.
Comprehensive 360° Approach to Customer Journey
Buzzeasy offers a unified perspective of your customer's journey, regardless of the communication channel.
Discover customer history, preferences, feedback, and behavior across platforms like voice, email, web chat, social media, SMS, and WhatsApp. Leverage AI for personalized customer experiences, eradicating silos and offering a seamless service that builds trust and loyalty.
Effortless Channel Management
Simplify multi-channel engagement with Buzzeasy's unified interface, encompassing email, web chat, Facebook, Twitter, Skype, SMS, and WhatsApp. 
Seamlessly switch between channels while using AI for automated responses or escalating to human agents as needed. This approach broadens your reach, enhances availability, and adapts to the varied needs and preferences of your customers.
Self-Service using AI & Bots
Buzzeasy facilitates 24/7 customer support through AI-driven self-service and chatbots, ensuring prompt query resolution without queue wait times.
Utilize natural language processing and machine learning to create conversational bots capable of handling common inquiries. AI-generated suggestions and recommendations expedite service delivery, reducing agent workload and enhancing customer convenience.
Outbound Dialing Campaigns
Automate outbound dialing with Buzzeasy to save agent time, reduce errors, and eliminate list or result management. Use AI tools for strategic campaign creation, targeting the right customers with precise messaging at optimal times. 
Buzzeasy's AI-driven dialing strategy optimization, factoring in contact rate, conversion rate, and agent availability, enhances outbound efficiency, maximizes effectiveness, and drives business success.
Deliver Exceptional BPO Services Enhanced with AI Capabilities!
With a presence in 50+ countries, Mplus integrates extensive CX expertise with AI through our proprietary contact center software, Buzzeasy.
As leaders in Business Process Outsourcing, we understand the power of AI in transforming customer experiences, which is why we offer Buzzeasy at no cost with our services.
Join us to unlock the potential of AI for consistent and exceptional customer interactions.
Ready to elevate your CX operations with digital transformation?