In today's competitive business landscape, talent development and employee motivation are essential for an organization's success. Although many companies acknowledge the importance of nurturing potential, they often struggle to identify and cultivate the talent within. Recognizing the significance of mentors' role in unleashing the potential of individuals, Mplus has launched a mentorship training program called  Mentoring at the Speed of Trust for its cross-border mentors.
It is a globally recognized program developed by Franklin Covey, one of the world's most profound leadership companies with a rich history of serving clients in over 150 countries for more than 20 years. The program aims to guide organizations in their quest to ensure employee development, motivation, and commitment by incorporating mentoring as a crucial leadership competency. Mplus embraced this program to ensure its mentors possess the skills to tap into and foster potential within their mentees.
Creating a Learning Culture and Supporting Employees in their Professional Journey
The Mentoring at the Speed of Trust Program aims to facilitate a robust transfer of knowledge and skills by bringing together individuals who possess expertise and experience in a particular field and employees eager to enhance their career growth within the company. The program focuses on creating a learning culture within the organization and supports employees in their professional journey.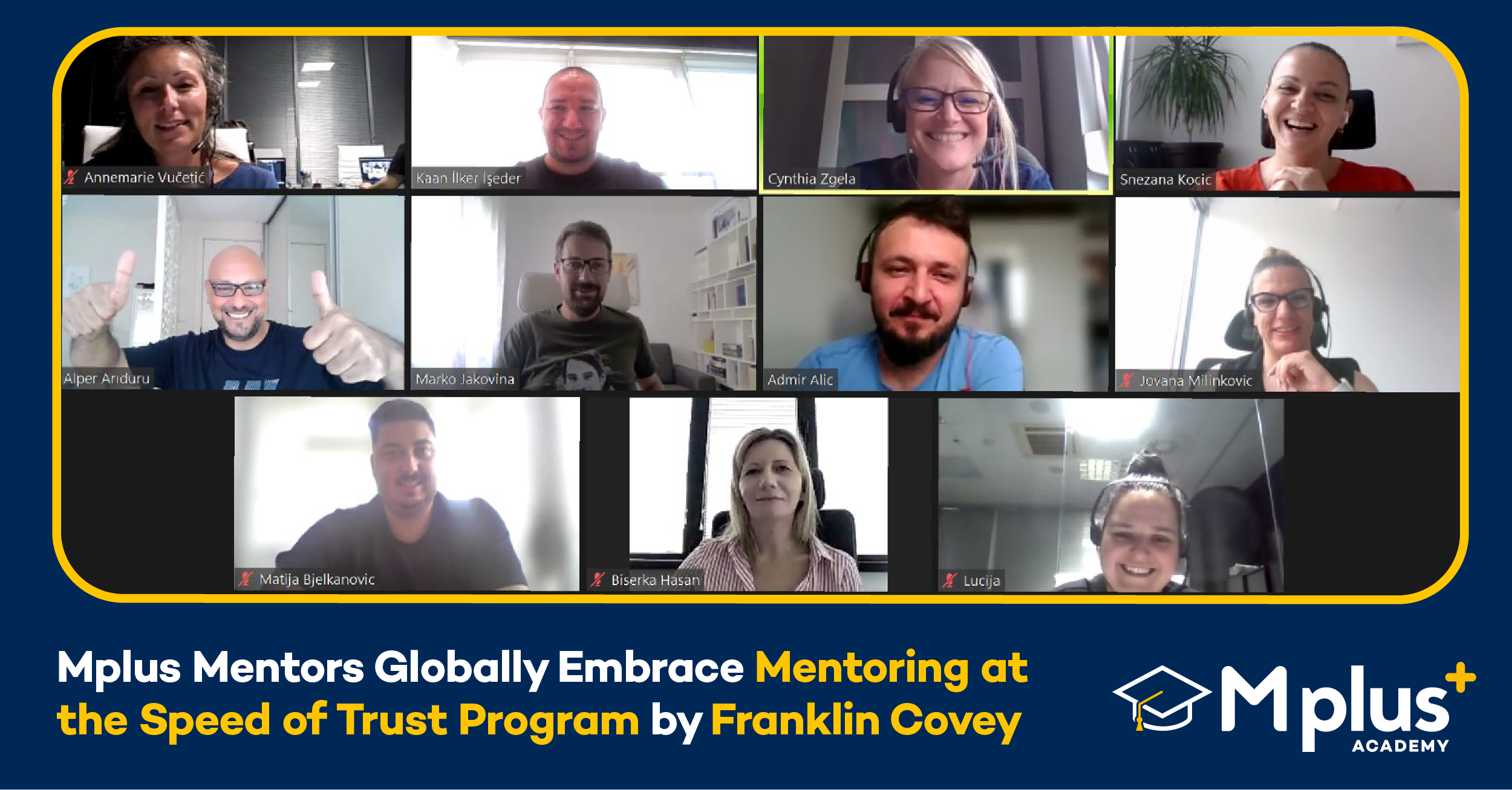 The exceptional 12 mentors from Mplus completed an intensive training program that equipped them with the skills to be effective guides. Understanding the difference between coaching and mentoring was a key aspect, helping them to connect better with their mentees. They also discovered the power of transactional analysis to communicate effectively and understand their mentees' real needs.
The mentors were introduced to the GROW Model, a practical approach to goal-oriented problem-solving. They explored the Wheel of Life, a tool to assess different areas of their mentees' lives and promote balance. Core values were emphasized, guiding personal and professional growth.
In exciting real-life case studies, mentors put their new knowledge to the test, gaining confidence in applying their skills to actual scenarios. After the enriching experience, they emerged as capable mentors, ready to make a positive impact in the lives of those they guide.
Mentoring Sessions: 5 Months of Guided Development
Following the completion of the program, the mentors were paired with volunteer mentees through a mentorship platform that has been suggested by the program. This mentorship relationship will span a period of five months, during which the mentors and mentees will engage in regular meetings and exchanges. The mentors will have kick-off meetings with a facilitator from Franklin Covey, who will provide feedback and guidance throughout the mentorship process.
To support the entire process, Mplus Academy will play a crucial role in keeping track of the mentorship program's progress and ensure strong communication between mentors and mentees.