ZAGREB / HELMSTEDT, 15.08.2023. - Mplus, a leading European BPTO provider, has announced the appointment of new members to the management team of its German subsidiary, Invitel. Raoul Blautzik, the newly appointed Chief Executive Officer (CEO) for Mplus Germany and Central & Eastern Europe, is introducing the new Mplus Germany team: Stjepan Marić as Interim Chief Financial Officer (CFO) and Bettina Straßburg as Chief Operating Officer (COO). Together, they will chart a new course for Invitel/Mplus Germany. In line with the Mplus Group's strategic vision to unify all BPO entities under the Mplus brand, Invitel will undergo a transition and continue its growth and development under the new brand name, Mplus Germany.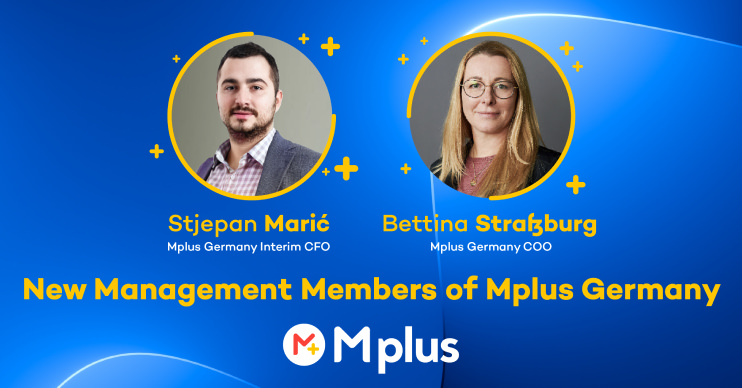 "I am delighted to welcome Stjepan and Bettina as our new management team for Mplus Germany. Joining Invitel and, thus, Mplus Germany at such a crucial time and being able to continue and help shape the successful course of the last few years is an exciting task. Their extensive expertise and leadership will be invaluable as we continue to expand our operations in Germany. With their guidance, I am confident that Invitel will thrive under our unified Mplus brand, delivering exceptional service and value to our clients and customers", Raoul Blautzik, Mplus CEO for Mplus Germany and CEE region, explained while referring to German market growth and the Invitel rebranding.
Stjepan Marić has been an integral part of Mplus for over five years, bringing extensive experience in consulting and finance. Prior to his career at Mplus, Stjepan Marić worked for Deloitte, where he advised and audited top-performing companies in their respective industries. At Mplus Group, he was most recently appointed as Director of Group Controlling and BI and was promoted to Mplus Germany's Interim CFO. He will provide financial leadership in areas such as cash flow management, forecasting, and expense analysis, utilizing his experience to optimize operations and drive continued growth for Mplus.
Bettina Straßburg served as Head of Operations at Invitel from 2009 to 2020. For the past two years, she held the position of Vice President of Operations at Majorel Germany. She will now use her expertise to further develop and optimize operational processes for Mplus Germany in the future.
"As a company of the Mplus Group, Invitel has a promising future ahead. Exciting projects lie ahead of us, but also challenges. I am glad to be back and work with my team to tackle these challenges in a focused and concentrated manner. Together, we will ensure the sustainable success of Invitel on its path to growth", Bettina Straßburg said upon her return to Invitel/Mplus Germany as a new COO.