The SEE Private Equity and M&A Forum 2023, hosted by EELEvents, brought together industry experts and professionals from the private equity and mergers and acquisitions (M&A) sectors in Southeast Europe. Mplus Group, a prominent European BPTO (Business Process and Information Technology Outsourcing) industry player, attended the event.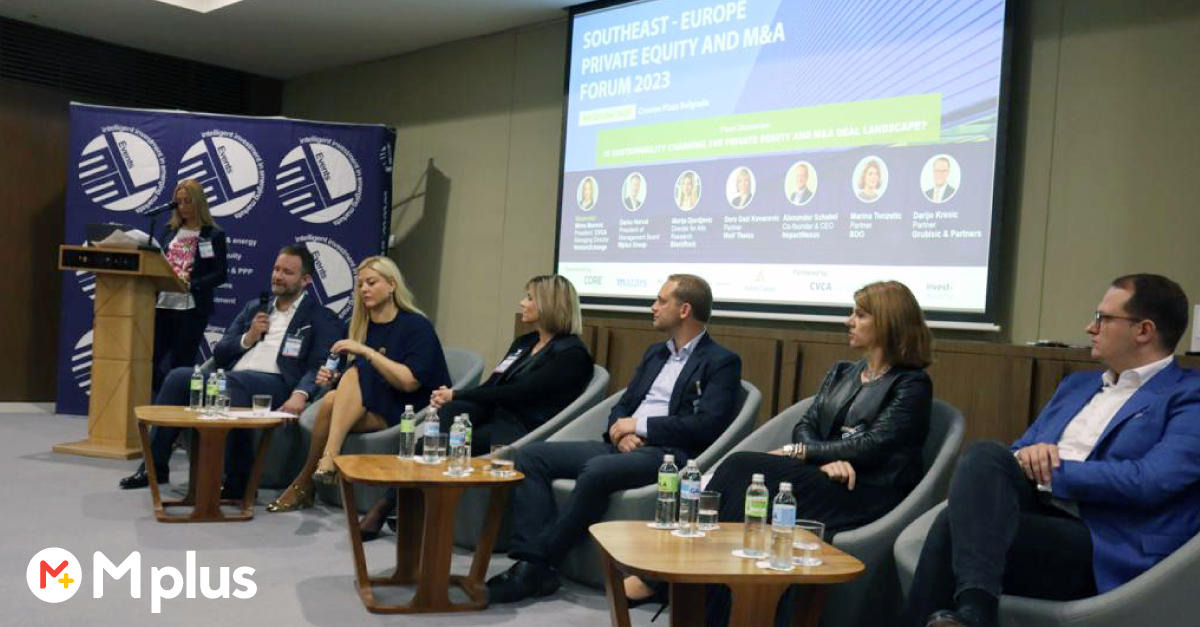 The 2023 forum focused on current trends and challenges in the private equity and M&A landscape. Discussions included topics such as deal origination, due diligence, post-merger integration, and the impact of Environmental, Social, and Governance (ESG) factors on investments.
Panel Discussion: Sustainability's Impact on Private Equity and M&A
A captivating panel discussion on "Is Sustainability Changing the Private Equity and M&A Deal Landscape?" enriched this forum. Mplus Group's Darko Horvat, Marija Djordjevic from BlackRock, Dora Gazi Kovacevic from Wolf Theiss, Alexander Schabel from ImpactNexus, Marina Tonzetic from BDO, and Darijo Kresic from Grubisic & Partners, participated in an in-depth discussion about sustainability in the context of private equity and M&A deals.
Innovative Financing for Sustainability: Insights from Mplus's Darko Horvat
Darko Horvat, President of the Management Board at Mplus (Meritus ulaganja), discussed Mplus Group's initiative to issue the first Croatian sustainability-linked bond, listed on the Zagreb Stock Exchange. He provided the background of the decision-making process that led to Mplus becoming not only a pioneer in Croatia but also a regional pioneer in issuing sustainability-linked bonds.
This innovative approach involved commitments to environmental and social objectives, leading to a reduced cost of financing. Under the terms of the issue, Mplus committed to two objectives, environmental with carbon footprint reduction objective, and social with female management role participation increase objective. 
Mr. Horvat discussed the advantages of sustainable financing beyond lower interest rates, elaborating how such innovative financial instruments can serve as powerful tools for driving positive environmental and social impact while simultaneously offering economic benefits to businesses and investors alike.
The Role of Sustainability: Beyond Regulation and Greenwashing
The panelists collectively emphasized that sustainability is not merely a regulatory obligation or a trend of greenwashing, but rather a genuine opportunity for value creation and risk mitigation. The discussion underscored the complex and multifaceted role that sustainability plays in private equity and M&A deals.
Reflecting on this experience at the SEE Private Equity and M&A Forum 2023, Mplus Group remains committed to staying at the forefront of sustainability and corporate compliance, contributing to the critical dialogue on sustainability.