Zagreb, November 17th, 2023 - In collaboration with Jutarnji list, one of Croatia's leading national media outlets, and Delo, Slovenia's largest national media platform, Mplus Group presented its advancements in the dynamic regional and European business landscape for the special Jutarnji list/Delo magazine edition "Next Business."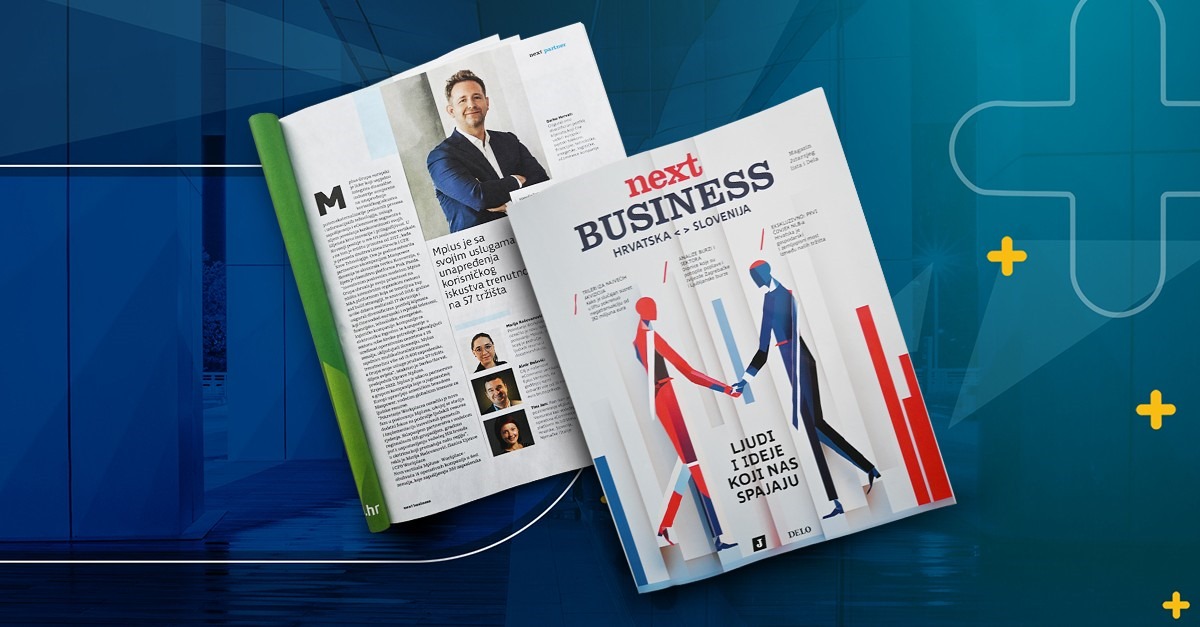 Mplus Group's efforts and continued success in both markets prove that the Group is more than merely keeping pace with industry trends; it is actively defining new standards for adaptability and ingenuity.
Our leaders, including Darko Horvat, President of the Management Board of Mplus (Meritus ulaganja d.d.), Tina Jan, CEO of Pink Panda, and Almir Đešević, CEO of Megabon (with Tina and Almir holding key roles in Mplus's eCommerce vertical, Eplus Ventures) shared their insights on the strategic direction and initiatives driving Mplus Group's success in the realms of Business Process and Technology Outsourcing (BPTO), Human Resources (HR) services, and eCommerce.
Expanding Our Presence in Slovenia and Beyond
Since 2017, Mplus has made a notable impact on the Slovenian business landscape. The Group's commitment to strategic growth is clearly reflected in its overall track record of 17 acquisitions and presence in 18 countries.
Recent milestones include key partnerships with Manpower Slovenia and the acquisition of Konverzija, firmly demonstrating Mplus's dedication to solidifying its position in the region and beyond.
Revolutionizing HR Solutions with the Workplace Vertical
A pivotal moment in Mplus's journey unfolded with the recent launch of the Workplace vertical. This strategic move underlines the Group's dedication to prioritizing human resources and implementing innovative, intelligent solutions. 
By partnering with a leading regional HR group, Mplus aspires to establish itself as a prominent HR brand with a presence that transcends regional boundaries.
Eplus Ventures: Bringing eCommerce Excellence Together
Mplus's venture into the eCommerce landscape took form with the introduction of Eplus Ventures in 2023. 
Boasting over 2.5 million active users spanning 13 Central and Eastern European markets, Eplus Ventures encompasses platforms such as Megabon and Pink Panda.
These platforms, with a strong focus on beauty, healthcare, and travel segments, engage in partnerships with industry giants like L'Oréal, Hilton, and Radisson Blu
Synergies Across Our Business Verticals
Mplus Group's success story is deeply rooted in the synergy among its core verticals. 
Business Process and Technology Outsourcing (BPTO), HR services, and eCommerce collectively form a comprehensive suite of solutions. 
With a workforce exceeding 13,600 employees spread across 18 countries, Mplus fosters a multicultural and innovative environment.
Future Outlook: Central and Southeast European Markets
As we look ahead, Eplus Ventures is dedicated to consolidating its position as a leading eCommerce platform operator in Croatia, Slovenia, Germany, and Italy. 
Anticipating substantial revenue growth in the HR vertical over the next three years, Mplus is well-prepared for success through technological innovation and market consolidation.
Leadership's Vision
In the article published in the "Next Business" magazine, Mplus's Darko Horvat underscored the Group's unwavering commitment to market leadership, innovation, and exceeding client expectations. 
As Mplus Group continues to evolve, it remains focused on offering clients and partners a distinctive blend of expertise, technological innovation, and tailored solutions.